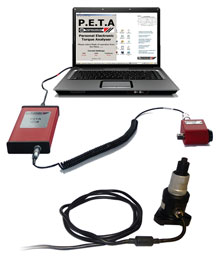 Calibration is an essential part of the activities of any company if quality control is taken seriously.

We can provide a Recalibration service on most torque instruments in or environmentally controlled calibration laboratory. We recalibrate using an The ISO 1500/90° Test Rig, which is designed with precision in mind. The rig simulates torque application conditions while eliminating the human element from testing
In conjunction with this rig we use the PETA 4 USB, which is the complete PC/Laptop hosted Torque Calibration Analyser ideal for Laboratory use. The system produces Calibration Certificates to ISO 6789:2003 directly to MS word.

We also in conjunction with one of our principals Mitutoyo, can provide UKAS calibration Certificates on a broad range of mechanical instruments such as Micrometers, Calipers, Bore Gauges etc.