STOKO "UNIVERSAL" Skin Protection Barrier Cream
€3.61 - €25.20 Ex Vat
RRP:
(RRP: )

P-G22184
Delivery

Next Day Delivery for ROI orders before 4pm
Previously Purchased
Eliminates the need for aggressive hand cleansers.
It is the ideal product for most workplace applications.
Simply rinse off dirt and grime.
Not only protects the skin from all general workplace substances, it also prevents dirt from sticking to your hands.
Enhances grip and a built-in cleansing agent facilitates cleaning of the skin so you can use milder cleaners.
It is quickly absorbed by the skin. As the cream contains no silicone, it can be used by workers in many different manufacturing processes and on production lines including the automotive and electronics industries where the use of silicone based products could have an adverse effect when coating surfaces.
Clear All
Your Recently Viewed Products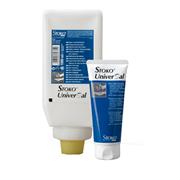 €3.61 - €25.20 Ex Vat