SECO Carbide Insert - Type No. WNMG 08..
€12.76 Ex Vat
RRP:
(RRP: )

P-E19241
Delivery

Next Day Delivery for ROI orders before 4pm
Previously Purchased
M5: First choice for roughing by means of double-sided inserts. Intended for demanding operations at high feed rates in steel, stainless steel and cast iron. Combines high edge strength with comparatively low cutting forces.
Machining range: f = 0.3–0.7 mm/rev, ap = 1.5–7.0 mm.
TP1500: Intended for general turning of steel and alloyed steel. The high wear resistance offers high speed capability.
TP2500: Intended for a wide range of turning applications in both steels and stainless steels. Also a good choice for cast iron. The wear resistance and edge strength together with the high versatility make the grade the first choice in a large number of applications.
TP 3500: First choice for rough or intermittent turning in steels and stainless steels as well as general turning of stainless steels.
Clear All
Your Recently Viewed Products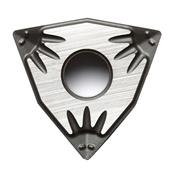 €12.76 Ex Vat