SECO Carbide Inserts - Type No. CCMT..06
€7.97 - €9.09 Ex Vat
RRP:
(RRP: )

P-E19217
Delivery

Next Day Delivery for ROI orders before 4pm
Previously Purchased
Chipbreaker for positive inserts. Ensures safe chip flow on finishing and medium roughing in steel and stainless steel.
Machining range: f = 0.15–0.40 mm/rev, ap = 0.8–5.0 mm
TP2500: Intended for a wide range of turning applications in both steels and stainless steels. Also a good choice for cast iron. The wear resistance and edge strength together with the high versatility make the grade the first choice in a large number of applications.
TP 3500: First choice for rough or intermittent turning in steels and stainless steels as well as general turning of stainless steels.
Clear All
Your Recently Viewed Products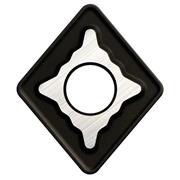 €7.97 - €9.09 Ex Vat