SEALEY MM20 Digital Multimeter
€23.35 Ex Vat

€16.25 Ex Vat
RRP:
(RRP: )
SALE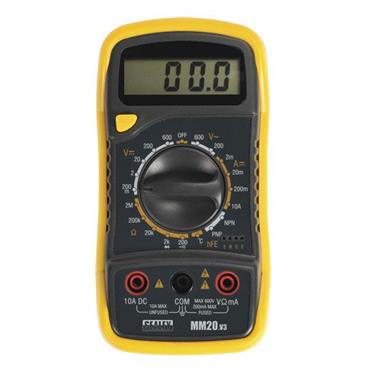 View Large Image

P-E10201
Delivery

Next Day Delivery for ROI orders before 4pm
Previously Purchased
Heavy-duty general purpose multimeter with clear and easy-to-read LCD display.
Features data hold function, temperature probe and diode test facility.
Housed in rugged rubber boot with integral stand.
Supplied with full set of leads and probes.
Specification:AC Voltage (Accuracy):200V, 600V (±2%)DC Voltage (Accuracy):200mV (±0.5%), 2V (±0.8%), 20V (±0.8%), 200V (±0.8%), 600V (±0.8%)AC Current (Accuracy):NoDC Current (Accuracy):2mA (±1.0%), 20mA (±1.0%), 200mA (±1.2%), 10A (±2.0%)Resistance (Accuracy):200Ω, 2kΩ, 20kΩ, 200kΩ (±0.8%), 2MΩ (±1.2%)Capacitance (Accuracy):NoTemperature (Accuracy):Range; -40°C-1000°C, (±1% up to 400°C), (±2% over 400°C)Frequency (Accuracy):NoDuty Cycle:NoContinuity Audible:YesDiode Test:YesTransistor Test:YesHigh-Impact Rubber Case:YesDigits x Height:6 x 12mmLow Battery Indicator:YesBatteries (Supplied):1 x 9VInformation:Integral StandSize (L x W x D):140 x 70 x 35mmWeight:260gConformity:IEC 1010
Clear All
Your Recently Viewed Products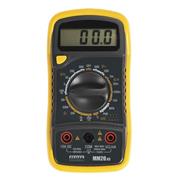 €16.25 Ex Vat