CAROLUS 1740.0002 Ratchet Spanner for 63 different sizes
€42.00 Ex Vat
RRP:
(RRP: )

P-G02474
Delivery

Next Day Delivery for ROI orders before 4pm
Previously Purchased
CAROLUS 1740.0002 Ratchet Spanner for 63 different sizes
Features:
New from Carolus Gedore, the only spanner set you will need in your top pocket!!
The 4 in 1 double ring ratchet wrench set is an absolute all-rounder satin finish for durability.
2 spanners covering a total of 63 different fastener types/sizes.
Switching lever for forward-reverse action and a fine toothed ratchet (72 teeth) makes for fast easy work.
The special profile for metric and imperial fastenings is the perfect, compact alternative to a conventional spanner set.
Covers Sizes Metric/Imperial:
Hex / Spline / Double Hex: 8mm 10mm 11mm 13mm 14mm 16mm 17mm 19mm 5/16" 3/8" 7/16" 1/2" 9/16" 5/8" 11/16" 3/4"
E Torx: (female torx) E10 E12 E14 E16 E18 E20 E22 E24
Square: 7mm 9mm 11mm 12mm 13mm 14mm 16mm 9/32" 11/32" 3/8" 7/16" 15/32" 17/32" 9/16" 5/8"
Clear All
Your Recently Viewed Products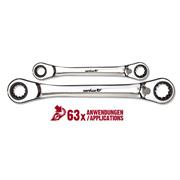 €42.00 Ex Vat